Chiu Authors Important Report on Hate Crime Prosecutions in NYC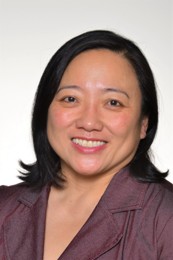 The Asian American Bar Association of New York (AABANY) released its second major report on anti-Asian hate crimes last week on May 31st, the last day of AAPI American Heritage Month. Professor Elaine Chiu was one of the executive editors and led the data collection and analysis efforts. Unlike any other study, the Endless Tide report aimed to answer an important question for this time of deep hate and violence in America: "What happens after a victim reports a hate crime?" In particular, the report focused on the efforts to make arrests and prosecute hate crimes in New York City and found that 7 incidents so far out of 233 incidents have resulted in a hate crime conviction. Some convictions led to imprisonment while others imposed non-incarceratory sentences such as counseling and drug rehabilitation.
Along with Professor Chiu, former Attorney General Loretta Lynch and other local elected officials spoke at the press conference announcing the report. Since its release, the Endless Tide report and Professor Chiu have been featured in a variety of media outlets, including the New York Law Journal, CNN, NBC News, CBS News, Gothamist, and Law360. The report has also been covered internationally.
Below is a sample list of media coverage:
June 4, 2022, farsnews.ir: New Report Says Only 3% of Reported Attacks on Asian Americans Led to Hate Crime Convictions
June 3, 2022, NBC News: Only 3% of reported attacks on Asian Americans led to hate crime convictions, new report says
June 2, 2022, Yahoo News: Attacks against Asian American New Yorkers rarely end in guilty verdicts, report finds
June 2, 2022, Web Times UK:  Only 3% Of Reported Anti-Asian Attacks In NYC Led To Hate Crime Convictions, New Report Finds
June 1, 2022, Philippine Daily Mirror: Lawyers' group releases its second report on anti-Asian hate and violence in NYC
June 1, 2022, Nextshark.com: Only 3% of reported anti-Asian attacks in NYC led to hate crime convictions, new report finds
June 1, 2022, Poughkeepsie Journal & lohud (same article): Attacks against Asian American New Yorkers rarely end in guilty verdicts, report finds 
May 31, 2022, Gothamist: Citing recent attacks, Asian American Bar Association pushes for more bail reform rollbacks
May 31, 2022, CNN: Only 7 of 233 reported attacks against Asian Americans in NYC in 2021 led to hate crime convictions, new report says
May 31, 2022, New York Law Journal: New York's Asian Community Faces 'Endless Tide' of Hate Crimes
May 31, 2022, Law360: Anti-Asian Hate Incidents Rose In 2021, NY Bar Assoc. Says
May 31, 2022, CBS News: New report criticizes rate of convictions in crimes with Asian victims in New York City
May 31, 2022, News Channel 3: New report due out today on anti-Asian violence and hate crimes in New York City