Congrats Class of 2020!
On Sunday, May 31, 2020, the J.D. and LL.M. students in the Class of 2020 became St. John's Law graduates
. . . in an unprecedented way.
They didn't cross the Carnesecca Arena stage, don their ceremonial hood, and descend the stairs to cheers and applause. Instead they—along with family, friends, faculty, staff, and alumni— came together from a (social) distance for a virtual Class of 2020 Celebration.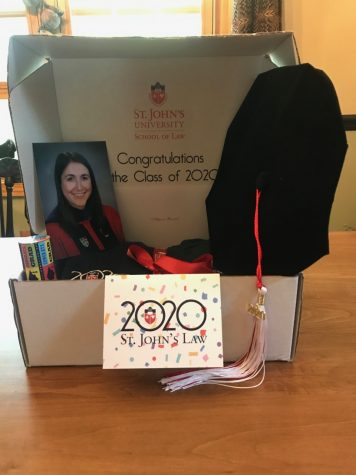 It all started days before, with the delivery of custom gift boxes containing  a tam and tassel, a handwritten note, and Class of 2020 gear. That set a festive tone for the online celebration, which kicked off with a special video message from Dean Michael A. Simons. With the formal conferral of degrees, the candidates became the newest members of the St. John's Law alumni family.
You can still share in the joy and excitement of the day by viewing our:
Class of 2020 Photo Gallery
Congratulations Class of 2020! Video Playlist
Messages from Family & Friends Video Playlist
We look forward to marking this wonderful milestone together in person soon!